Qustodio for Chromebook version offers the following features:

Reporting:
Apps usage, device usage, and websites visited.
Blocking:

Apps, device and websites.
Time Limits:
Device and apps daily quotas and usage schedule.


Please note, other features might not be available yet.
There are two main stages to fully set up Qustodio for Chromebook:
Installing the Qustodio Kid's App on your child's Chromebook. This part protects your child when they use apps on their device.


Installing the Qustodio Chrome Extension on your child's Chromebook. This part protects your child while they browse online.
Please complete the steps in the correct order as shown below to ensure full protection. You will need to have your child's Chromebook to hand as you will be installing protection directly on their device.

Setting up protection
To start, open your child's Chromebook session and search

Kids App Qustodio in Google Play.




Click

Install

.





Open Kids App Qustodio. If you are already a Qustodio user, choose

Log In.
Otherwise, select Get Started

.





Carefully read the terms and conditions. You must agree

to continue.





Enter your Qustodio email address and password and click

Log in

.





Enter a name for the Chromebook device and click

Next

.





Select who will use this device. Please note, if several children use this device and have their own user sessions, you will have to repeat the process for each child profile/session.




Next, tap Let's do it! to continue. You will see the permissions Qustodio requires to protect and supervise your child's device. Follow the instructions on the screen. Please allow all necessary permissions and wh

en prompted to activate accessibility, choose Activate accessibility for Qustodio.




Once you have granted all permissions, you will have protected the apps on this Chromebook. You're now ready to protect your child's browsing activity. Click

Go to Chrome Store to continue.




In the Chrome Store click

Add to Chrome and then Add extension.



Confirm you want to add the extension in the pop up that appears.





Next, we just have to connect the Qustodio extension to your Qustodio account. To do this, click

Connect now.


Click Open in the pop-up that appears.



Congratulations! This Chromebook is fully protected with Qustodio.


Please note this Chromebook will appear as an Android device in the Parent App.
As a final step, we recommend enabling the Qustodio extension in incognito mode.
Unsure what incognito mode is? See Google's help section for more information.

To allow Qustodio in incognito mode:
Type

chrome://extensions

in your browser.

Find Qustodio and click

Details

.

Scroll to find

Allow in incognito

Enable

Allow in incognito

.
Important: you will need to adjust your child's Chromebook Power Settings so that reports accurate ScreenTime.
Go to your Chromebook Settings > Device> Power and make sure you select Sleep mode for all options:

- While Charging
- While on Battery
- When cover is closed
This will prevent the screen from turning on accidentally and report time when it shouldn't.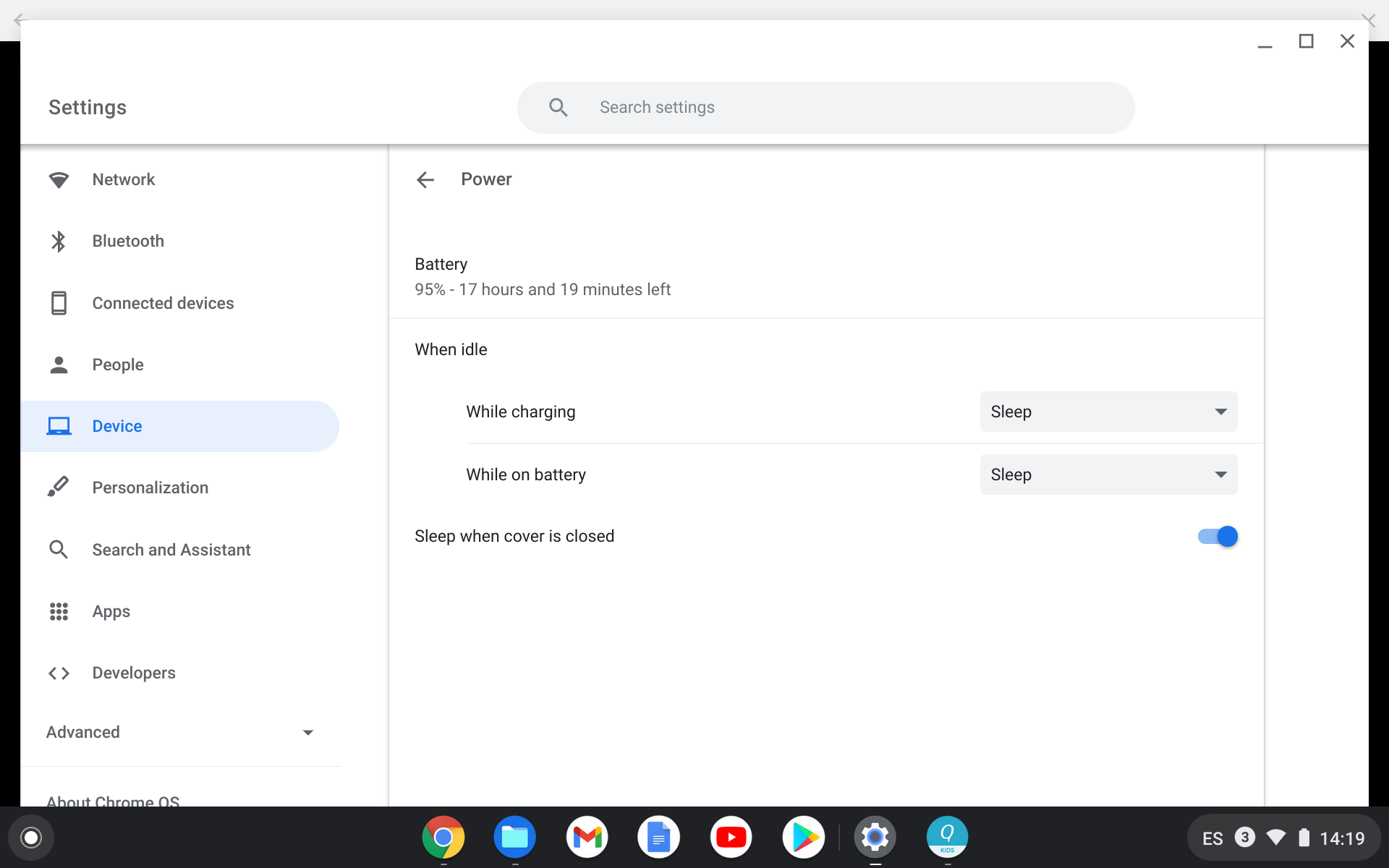 Please note: if your Chromebook is managed by your child's school, you might not be able to change your sleep settings. Contact your child's school for more information.
All Set!

If you have any questions or concerns, please contact our Customer Support team at https://www.qustodio.com/help/contact/.