If you experience any issues with Qustodio for Android, please read the important notices below, as well as the following basic troubleshooting steps.
Important notices
Qustodio for Android only works with the following web browsers:

Google Chrome and Firefox. If Qustodio fails to report any web activity, it might be because your child uses a different web browser (e.g., Opera). Make sure to enable "Block Unsupported Browsers" feature. For this, please go to your Family Portal to the user's profile and to Rules > Web Filtering > Settings > Block Unsupported browsers.

Qustodio is compatible with

Android 7 or higher

. Older versions of Android, Android Go, and forked versions of Android may be subject to compatibility issues.

Incognito mode:

Qustodio can monitor and block pages even in Incognito mode.

Time usage limits:

on Android, the "

Lock Navigation

" option blocks all of the apps except for some specific apps like Calendar, Calculator, Home screen, the notification bar, the recent app list and calls. With the "

Lock device

" option, the entire device will be locked, but the user will still be able to call emergency numbers (e.g., 911) and the trusted contacts listed in Rules > Panic Button.

Applications rules:

note that applications will start showing up in your Family Portal in Application Rules only once they've been downloaded, installed and used at least once by the user. You can then enable application controls, allow or block specific applications and set a time limit for each application.

Read this article

for more information.

Calls and SMS:

if you want to monitor calls and SMS on Android, make sure you download the full version of Qustodio directly from our website. Read

this article

for more information.

Geolocation:

if geolocation is not working properly, please check that the Geolocation/GPS settings on the device are enabled to guarantee accurate location reports and refer to

this article

for more information on how to set up geolocation on Android. Pease note

Geolocation features are not yet available for Huawei phones without Google services. Read this article for more information on using Qustodio with Huawei devices.
Panic Button:

Refer to

this article

for more information on how to set up the Panic Button.

Hide Qustodio: o

n mobile phones it is not possible to

hide Qustodio

, due to technical limitations on the system.

Multi-user support:

Qustodio doesn't support multiple users on Android devices. However, depending on the device, you might be able to download and install a copy of Qustodio for each user you want to protect.

Split-Screen

: split-screen and similar features like multi-windows, Picture-in-Pictures or Pop-up view are not compatible with Qustodio as they can be used to bypass the protection. When Qustodio is installed it will block these features on Android devices.

If your child's device supports the use of a guest account, you can increase the protection by

disabling the Guest profile

.

You can also disable the Safe Mode following these instructions.
Troubleshooting
If you experience issues with Qustodio for Android, please make sure:
You installed Qustodio for Android properly. Click

here

for step-by-step instructions on how to install Qustodio for Android.

You're using the latest version of Qustodio available from the

Google Play Store

. For this, go to the device, and search the Google Play Store for Qustodio. Click on Qustodio and on "Update."

You're using the latest version of the web browser (Google Chrome or the Android Stock Browser) available.

The Device Administrator permission on the device is active. Read

this article

to learn more about it.

You disable any battery optimization option for Qustodio. Some device manufacturers, such as Huawei or Samsung among others, have added Battery saving options that can deactivate Qustodio on the device. Learn more about your phone's model here.
If your child's device is a Huawei, read this article for more information.
My child's device is blocked and I need to unblock it
On every block screen you can click on the settings button on the bottom right of the screen.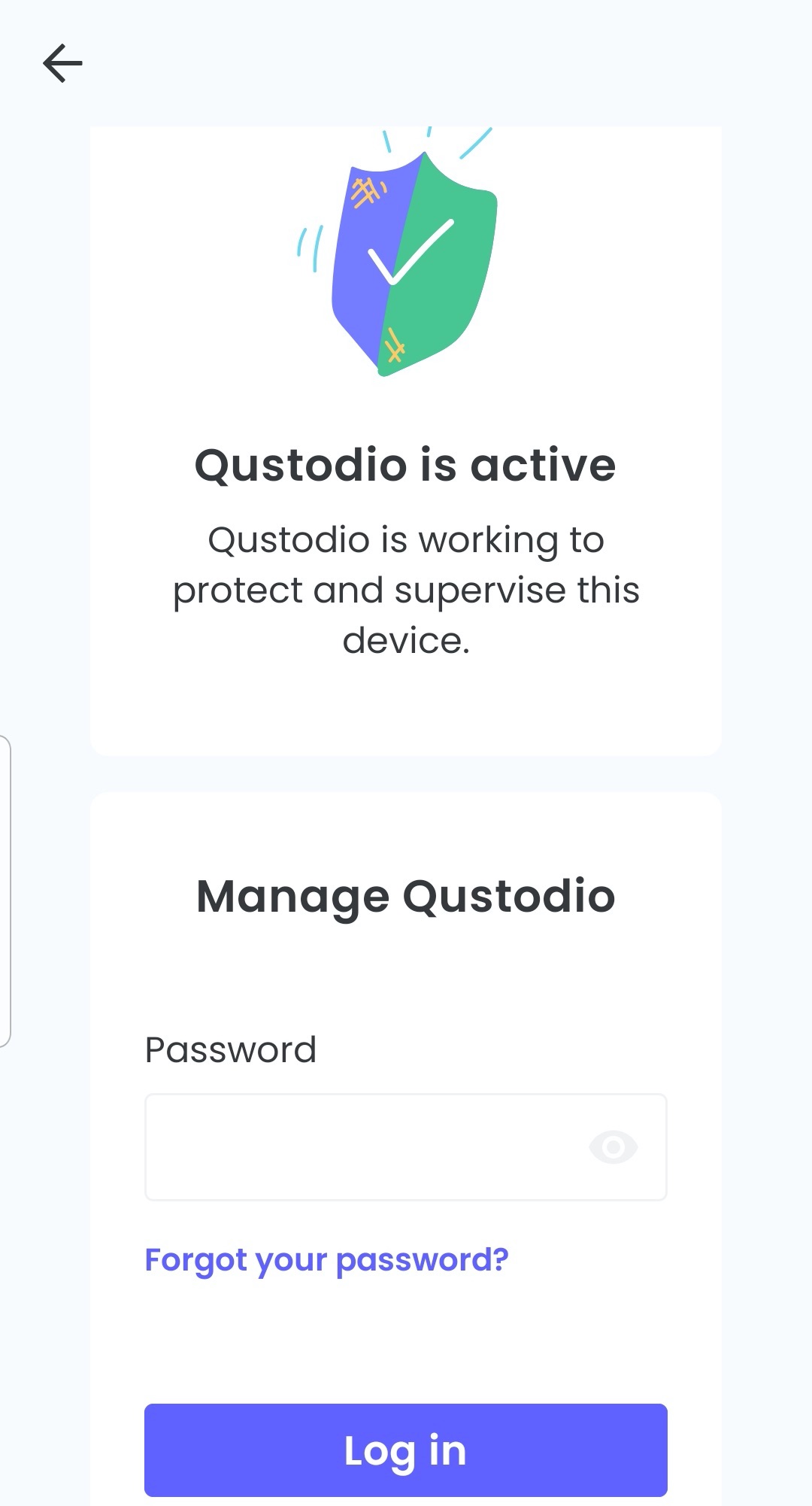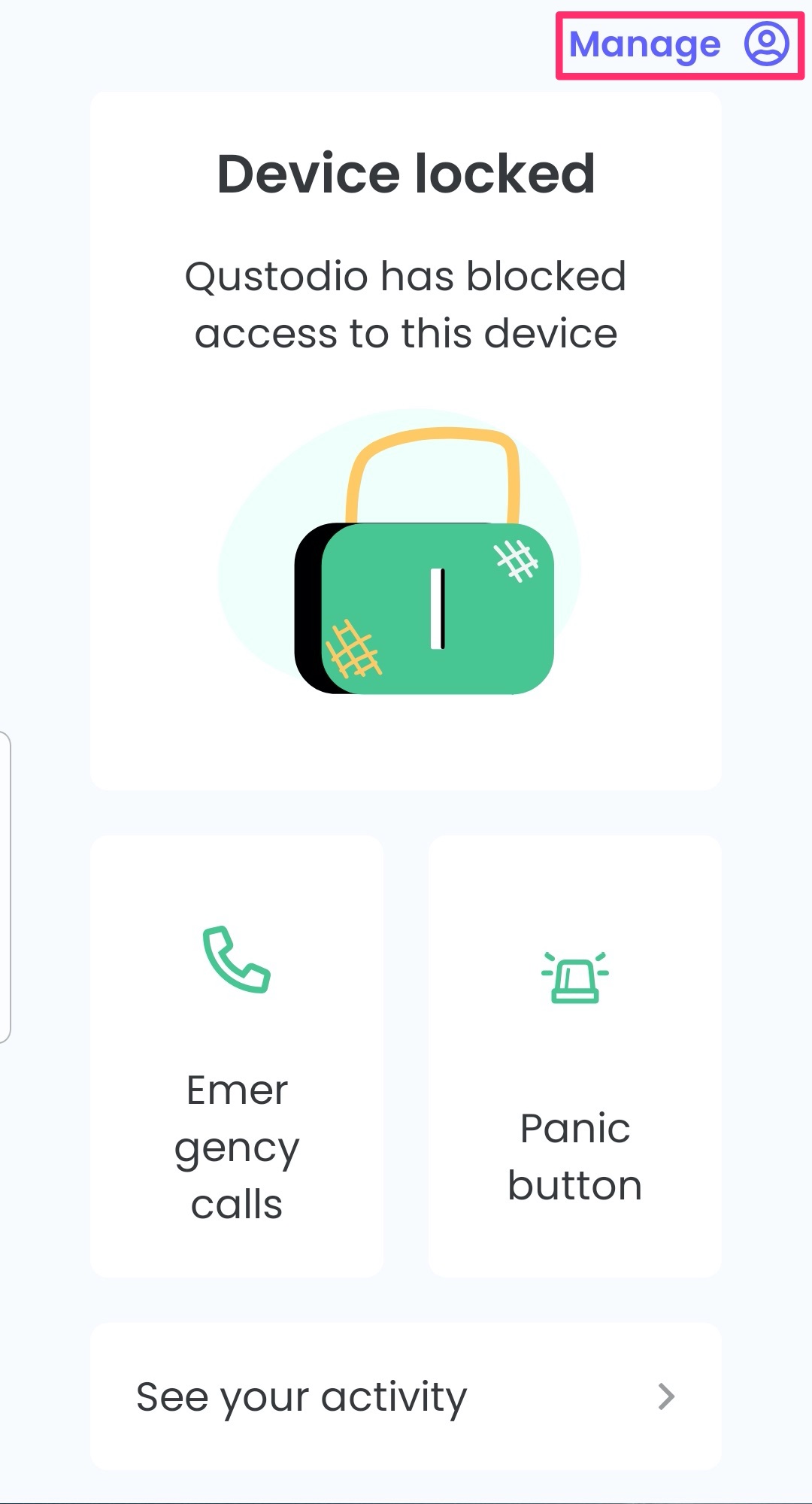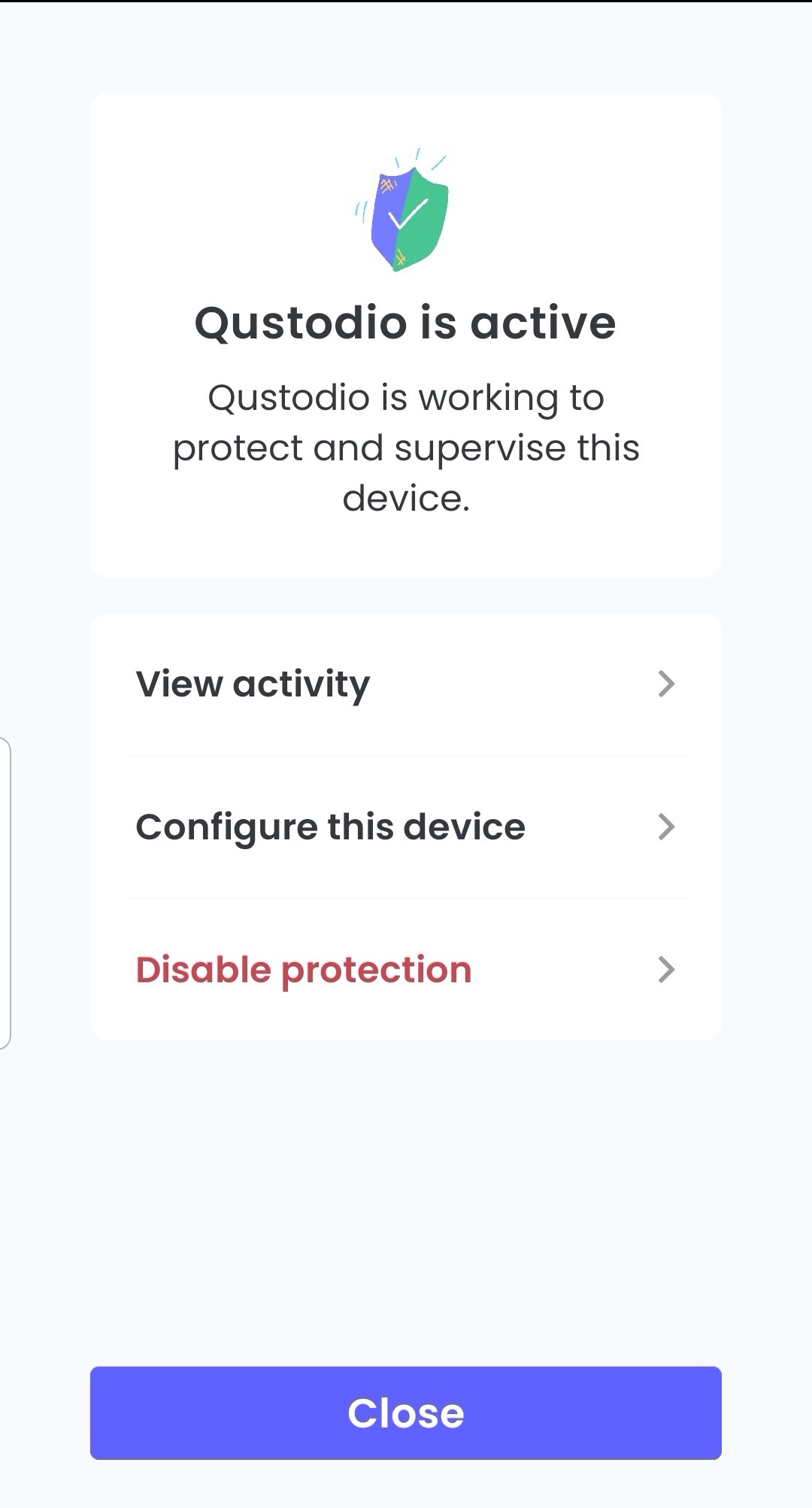 After entering your password you can select "Disable protection" and then selecting on of three options:
Disable Qustodio for a period of time.

Disable Qustodio until you turn it on again.

Remove Qustodio. This option will uninstall Qustodio completely from the device.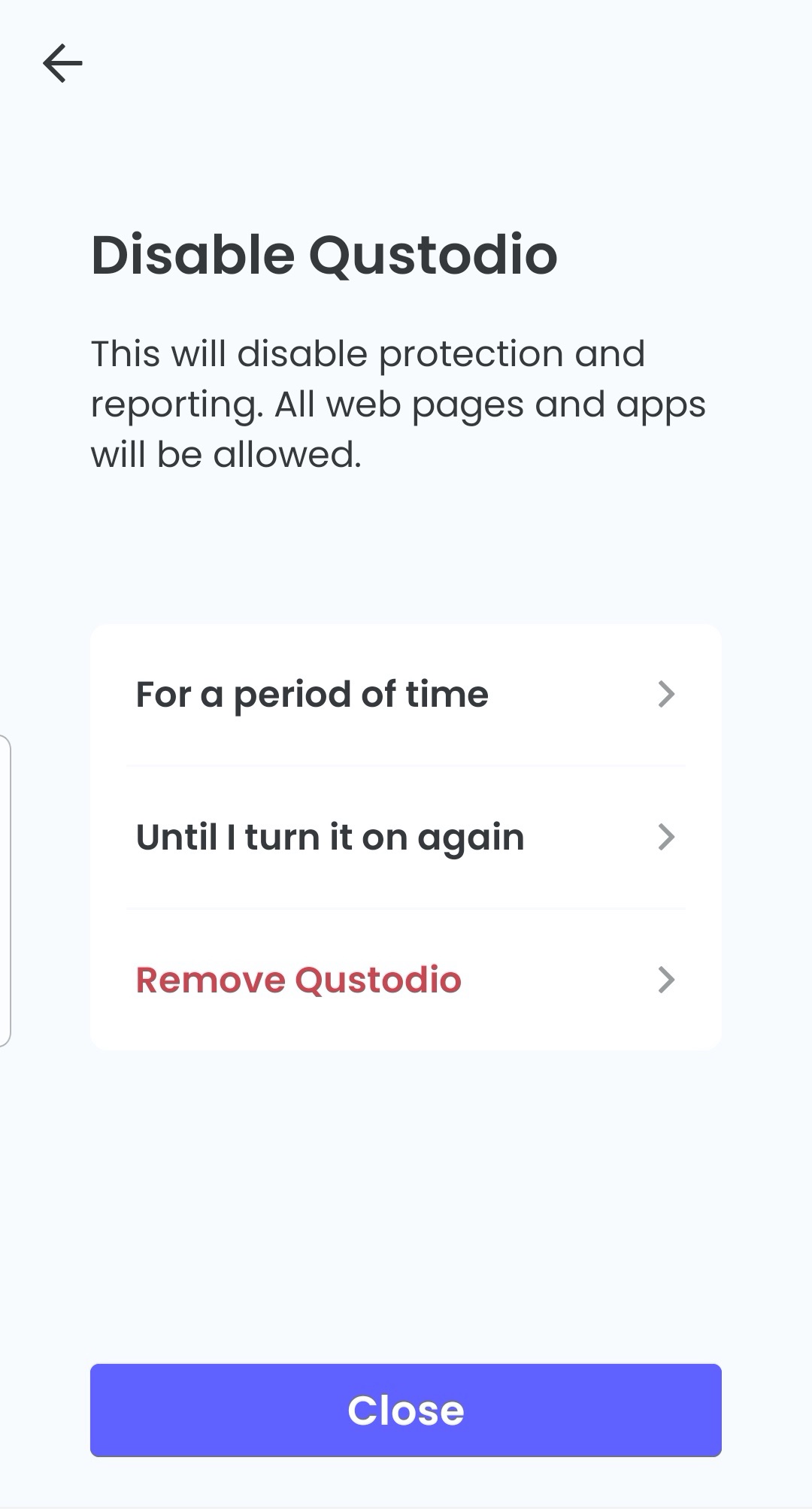 If you find that you need more specific help, please don't hesitate to contact our Customer Support Team here: https://www.qustodio.com/help/contact/