Sometimes when deleting Qustodio from an old device or reinstalling Qustodio on the device, Qustodio can be eliminated from the device without it being eliminated from the Family Portal device list. You can eliminate this old or duplicate device following this steps:
Go to https://family.qustodio.com/ and login with your email and password.
Once you are in your Family Portal/ Parents' App, choose Your devices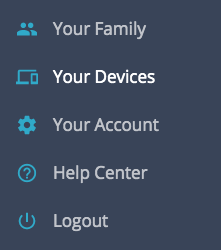 You will see a list of all your devices.
Click the one you wish to delete.
Next, click the trash icon in the top right corner.
A dialog box will appear to check you wish to delete the device. Click OK to confirm.
That's it! Your device should now be removed from the list of devices in the Family Portal.