When you sign up at Qustodio, your account is set by default to send you a report for each child every day. These reports contain a summary of the activity recorded on all devices associated with the child's profile.
How to change your notification settings
If you don't want to receive reports, or if you prefer to receive a weekly summary instead, you can easily change your settings.
1. Log into your account at https://family.qustodio.com/
2. From the sidebar on the left-hand side, click Your Account.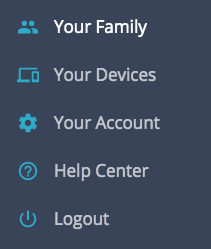 3. Scroll to the bottom of the page where you will see the "Notifications" menu. You will see two options for Daily Email Reports and Weekly Email Summary. Click the switches beside the notifications that you wish to receive.

How to opt-out of other notifications
To unsubscribe from other email notifications (newsletter, special offers, platform maintenance, etc.), send us an email to unsubscribe@qustodio.com from the email address associated with your Qustodio account and we will opt you out.